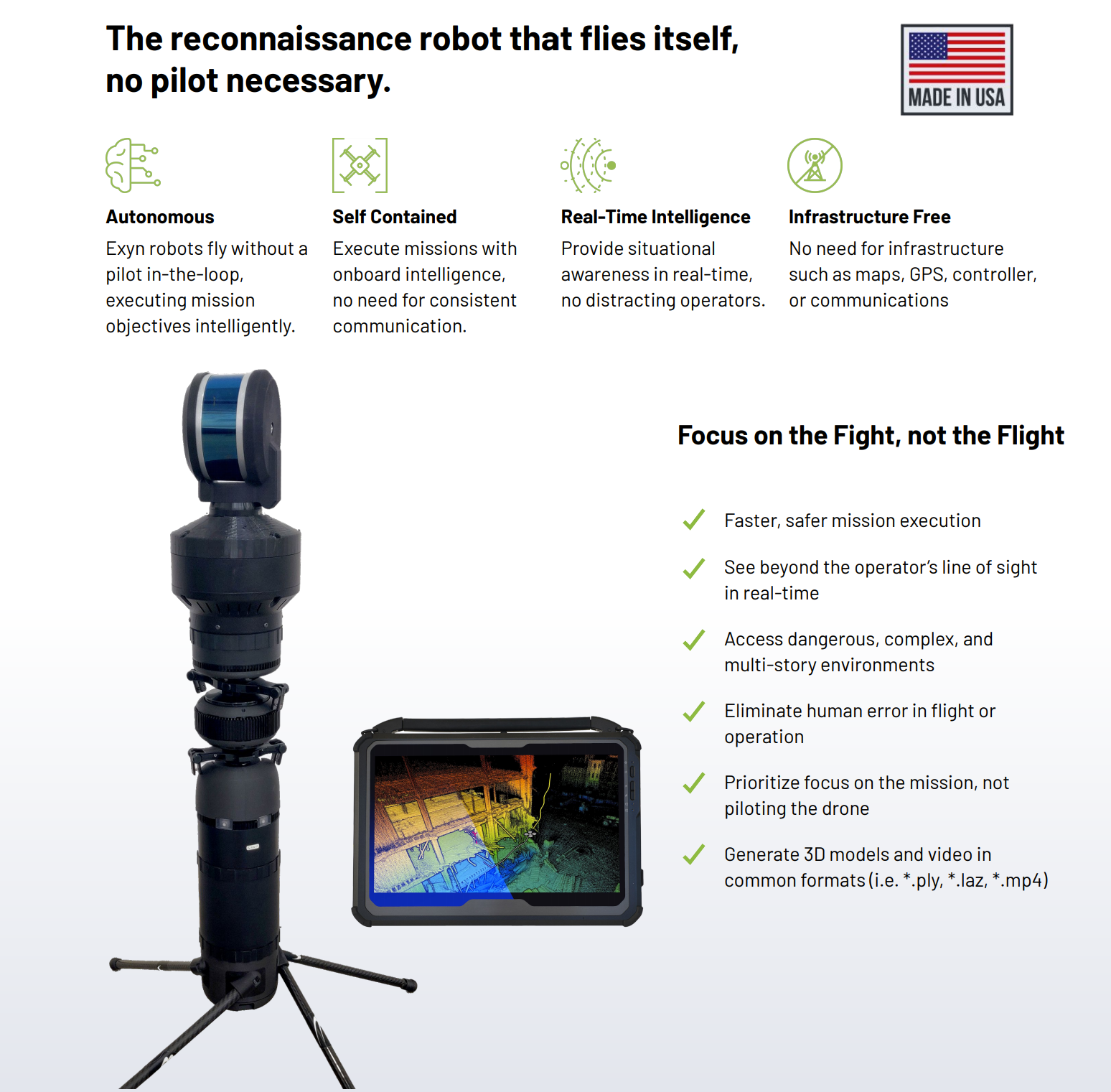 This strategic partnership enables a first-of-its-kind drone system with Ascent AeroSystems' innovative coaxial airframe design coupled with enhanced data collection from Exyn's world-class level 4 autonomy.
Wilmington, MA – August 10, 2021 – Ascent AeroSystems and Exyn Technologies have announced a strategic partnership to create the next generation of comprehensive autonomous drone solutions. Both industry leaders were recently announced as finalists for the AUVSI 2021 XCELLENCE Awards – Ascent AeroSystems for Hardware and Systems Design and Exyn Technologies for Software Design and Coding. The partnership will usher in a new era of UAV capability available to a wide number of industry verticals. 
Ascent AeroSystems' Spirit coaxial Unmanned Aerial System (UAS) offers the most versatile and durable system in its class for mission-critical operations. Combined with a fully modular, plug-and-play payload design, the Spirit offers more capability and enables better performance and reliability in extreme conditions than traditional multirotor or quadcopter designs.
"At Ascent AeroSystems our focus is on making the most rugged, versatile, and efficient UAV on the market," said Paul Fermo, VP of Business Development for Ascent AeroSystems. "The software and sensor part of the industry is evolving very rapidly so operators need a vehicle that not only provides superior performance and reliability, but that's also scalable, able to be upgraded with the newest technologies when they're available. Our strategy is to partner with best-in-class payload providers, like Exyn Technologies, to deliver an unparalleled combination of performance and capability to our customers." 
Adapted to the Spirit as an optional payload module, Exyn's industry-leading LiDAR system and autonomous software stack provides unprecedented 3D mapping in GPS-denied environments.  Now with level 4 autonomy and advanced data collection software, this payload capability enables superior security encryption and increased speed and agility.
"Exyn brings next generation aerial robotics systems for free-flight exploration of highly complex spaces with no necessity for fallback-ready human operators—at 2X flight speed and with richer data collection than previous standards," said Ben Williams, Chief Operating Officer at Exyn Technologies. "This achievement combined with the Spirit airframe from Ascent AeroSystems unlocks new possibilities for search & rescue, surveillance & reconnaissance, space exploration, and more." 
About Exyn Technologies
Exyn Technologies is pioneering autonomous aerial robot systems for complex, GPS-denied environments. The company's full-stack solution enables flexible deployment of single or multi-robots that can intelligently navigate and dynamically adapt to complex environments in real-time. For the first time, industries like mining, logistics, and construction can benefit from a single, integrated solution to capture critical and time-sensitive data in a safer, more affordable, and more efficient way. Exyn is powered by a team of experts in autonomous systems, robotics, and industrial engineering, and is a spin-out of the University of Pennsylvania's world-renowned GRASP Laboratory. The company is VC-backed and privately held, with headquarters in Philadelphia. For more information, please visit www.exyn.com.
About Ascent AeroSystems
Ascent AeroSystems designs rugged coaxial drones for the defense, public safety and industrial markets. With a unique cylindrical configuration that's far more compact, rugged, efficient and versatile than conventional multirotors, Ascent's drones are ideal for operations in the toughest environments. Founded in 2014 in Boston,  the company has delivered hundreds of systems to civilian and government customers worldwide and remains the world's only manufacturer of enterprise-level compact, rugged, high performance coaxial UAVs. For more information, please visit: https://ascentaerosystems.com/.