"We were eager to participate in the field tests as we knew they would show what the Spirit was capable of."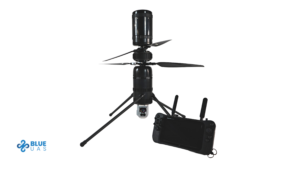 In July of 2021, the Ascent AeroSystems Spirit platform was selected to undergo a rigorous test and evaluation process by the Defense Innovation Unit (DIU) designed to pre-screen and clear selected unmanned aerial systems for authorized procurement by the department of defense (DoD) and other government agencies. As the lead agency for the Blue UAS program, DIU partners with organizations across the DoD to field test and assess the performance, functionality, and safety of advanced commercial solutions for government agencies.
In addition to identifying viable industry technology for DoD and the federal government, a primary aim for DIU is to reduce the time between the identification and procurement of new technology solutions without sacrificing the evaluation process. Traditional DoD contracting can take up to 18 months; by the time a new solution is 'approved' there is likely a more advanced solution on the market. The Blue UAS program was created specifically to vet commercial unmanned aerial systems (UAS) technology for government use as the number of applications rapidly increases and the need for readily available equipment rises.
The US Military and other government agencies have been working with unmanned technology for mission-critical operations since July 2002, when 'Hermes' was deployed to search for a network of caves in Qiqay, Afghanistan. At that early stage, drones were incredibly large, expensive, and years away from consumer market adoption. Since then, the commercialization of drones has taken place and the industry is positioned for growth within government, public safety, and industrial markets.
Adoption of unmanned aerial systems into government sectors comes with its own challenges and security considerations. The Blue UAS program mitigates those concerns by running systems such as the Spirit through rigorous flight performance, endurance, and sensor evaluation tests hosted by government representatives who evaluate system reliability and operational efficiency, followed by a series of independent, in-depth cyber vulnerability and component tests to ensure compliance with federal regulation.
Overall, the Blue UAS program field evaluations consisted of the following test categories:
• Performance, endurance, range, and environmental tests
• Analysis of components and parts
• Cyber vulnerability tests
• Battery testing
In summary, the DIU Blue sUAS certification is designed to ensure that government users will receive reliable technology and is meant to speed up the technology adoption process within the U.S. government. This not only benefits the government agencies that utilize the equipment, but also supports the drone manufacturers, engineers, and innovators behind the technology. Large-scale commercial adoption of these systems and solutions creates more jobs while simultaneously addressing national security issues.
We were honored to take part in the evaluation alongside some of the most respected drone manufacturers in the industry. The Spirit is the 4th UAV to be selected from the Blue UAS 2.0 round, 7th overall in the Blue UAS program, and the only coaxial on the list.
Learn more about SPIRIT Blue UAS
Learn more about the DIU Blue UAS Program